"SPARKLY". "SECLUDED". "AWARD WINNING".
The Berkshire Room has been called a lot of things since it opened ... and they're all really, really good! It's also consistently hitting the top of the "Best of" lists nationally and locally. So aside from the bragging, here's the 411 on this Chicago Cocktail "haven"! Named after the hotel that stood in this very spot decades ago, The Berkshire Room unites the old world cocktail aesthetic with contemporary urban touches. After a long day, sip craft and barrel-finished cocktails, wine, and blue collar lagers while savoring tasty bites with friends and soaking up the polished, yet casual surroundings.
Celebrate NYE at The Berkshire Room
One of Chicago's most respected cocktail bars, The Berkshire Room with Bodega Suite, will be serving up a celebration of excellence this New Year's Eve Chicago. Join an intimate crowd as we revel in the new year, free of pretension, giving all guests an unparalleled experience in sleek and refined surroundings.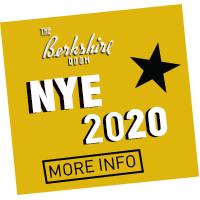 Menu